Canning City Senior Football
Canning City has teams in the Football West Saturday State league, Sunday Amateur League, and Sunday Masters League. We accept players of all ages, fitness and skill Levels.
Canning City Semi Pro Football
Canning City Football Club has been involved in the best game in the world for 25 years and fields three senior teams competing Saturdays in Football West's in Div 2.
Over the last years the club's junior sides developed extremely skilful players who wanted to continue their careers under the banner of Canning City Soccer Club. In 2003 Canning City Football Club renewed the commitment to provide a full range of playing options to players of all ages, from Rooball through to Senior level in a non-ethnic environment and welcomes players of all nationalities and abilities.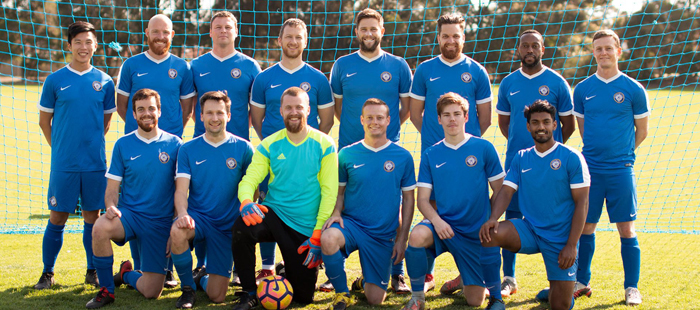 The Canning City Amateurs are THE competitive team to join.
This team has risen through the ranks with promotion from the social division, amateur division 3 and pushing for the top spot now in their division most seasons.
Are you ready for a new challenge?
The Amateurs have two teams, First and Reserves, and are a strong and passionate group of young men from 18- 35 from all different backgrounds. They take pride in having a strong commitment to playing good hard but fair football, and have garnered a sound reputation for being a side that will challenge anyone at any level.
They have refreshed kits, new training equipment and the Club President as one of the coaches, What more could you need from a side? They will push you to join or identify your talent and give you the opportunity of our state side. All the Amateurs ask is for dedication and for everyone to work as a team. You will meet mates for life with Canning City.
Canning City Football Masters
Canning City have 2 teams in the Masters League (Men aged 35+) . New players are welcome to come and check us out. Training is on Wednesday from 6.30pm at WillettonReserve, Apsley Road, Willetton. Please contact us on ccscmaster@gmail.com
Canning City Women's Team
Canning City Ladies team is always looking for like-minded players to join our friendly and competitive team!
Working with the club, we are developing our players to compete in the women's metropolitan league and provide a pathway for younger girls at the club to move up into adult leagues.We train twice a week on Tuesday and Thursday nights, with games on Sundays during the soccer season.
Pre-season trials and training will start in February 2022 with new players welcome. Expressions of interest can be forwarded to womens@canningcityfc.org.au for dates and more information.Canning City Ladies team is also looking for coaching assistance for the 2020 season. Please contact womens@canningcityfc.org.au for more information, and tell us a bit about yourself!